Michigan Cup Update
The Vasa Ski Club is in the hunt for the Michigan Cup. So far we are in second place, nipping at the heels of the perennial winner, Cross Country Ski Headquarters. We are doing so well! With the Vasa Weekend looming, we should be able to pick up even more momentum.
Michigan Cup Standings up to the White Pine Stampede:
1. CCSH - 16,418
2. VASA - 16,219
3. NSR - 13,116
4. GRNST - 12,664
5. HH/CCSS - 11,520
6. SS - 4,161
7. U of M - 4,123
We are #1 in the Brumbaugh Cup standings. This competition measures the top scores of our team, with the top women and men contributing. The lower the points, the better.
Brumbaugh Cup
Vasa Ski Club-465
Hanson Hills/Cross Country Ski Shop-518
Cross Country Ski HQ-567
Nordic Ski Racer-618
Grand Rapids Nordic Ski Team-646
Straits Striders-1564
U of M-1725
Nordicskiracer.com will post the individual results. Be sure to check your points and if they are incorrect, please let Glenn Goodman (glenn@gbgpainting.com) or Melinda Mitchell (melindajam@aol.com) know! Go team!
-Gussie


The Shorts
North American Vasa
Get out there and ski. It's time for the VSC to step up and represent!
Onsite registration and packet-up at Timber Ridge is set for:
Friday from noon to 9:00 PM
Saturday from 7:00AM to 12:15PM
Sunday from 7:00 AM to 9:45 AM
Support Our HS Skiers! Eat Vasa Pasta!
Fuel up for your race and help support the Traverse City Central & West High School Nordic Ski Teams on Friday, Feb. 12 from 5 - 8 pm during packet pick-up at Timber Ridge. The meal features our special VASA Pasta Sauce, delicious Stone House Bread, Caesar Salad and homemade desserts, and a variety of drinks. Join the fun in the banquet hall at Timber Ridge. Bargain priced at $10 adults and $5 for kids 12 & under. All are welcome!
White Pine Stampede
Vasa Ski Club members were out in force for last Saturday's White Pine Stampede, racking up loads of MI Cup points for the team. Erica O'Hearn (20K FS), Glenn Goodman (50K CL), and John O'Hearn (50K FS) turned in decisive victories in their respective races. Many club members skied strong races, finishing among the overall leaders or winning age group awards. Complete results along with a recap of the top finishers may be viewed at nordcskiracer.com.
Other VSC racers persevered through equipment failures, illness, and reckless skiers. Paula Gale was only 5K into her 20K classic race when her ski boot began separating from its sole! She fought to maintain control of her right ski without being solidly connected to it, and snow kept piling up between the boot and the sole. Of course, her kick had to be modified and climbing was a bigger challenge. Amazingly, she was able to make it work to pull out a 2nd place in her age group, behind teammate Marnie Sutter. Marnie and some others had been battling a nasty respiratory bug that affected their training, but managed to ski tough and finish well. On one fast and narrow downhill in the 20K race, Paula Dreeszen had to jump out of the way of a neophyte skier with the U of M Nordic Ski Club who shouted that he didn't know how to stop! Apparently, it was only his second day on skis.
Veteran VSC member Tom Sutter (20K FS), who proved that he can still ski faster than guys half his age, was among those acknowledged in the awards ceremony for having skied the first WPS 40 years ago. And if you are wearing a VSC race suit and you see Vojin Baic in the finish area, or the parking lot, stop and say "hi". As a ski racer in northern Michigan, you owe him that. And he'll call you out by bib number if you don't!
-Melinda Mitchell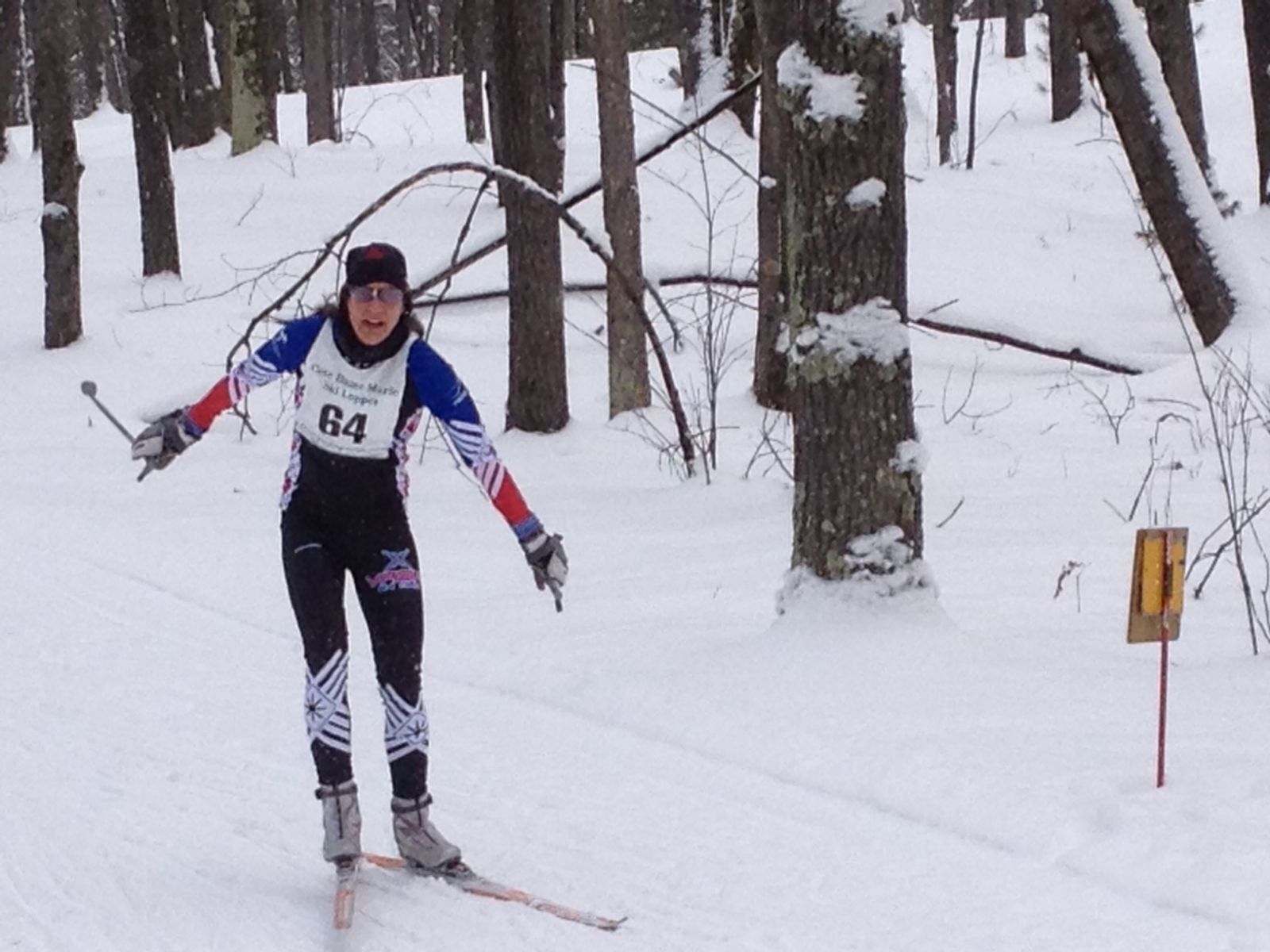 It's not too late to get a VSC race suit. The design has received much positive attention at Michigan Cup races. The material and construction are of the highest quality. A limited number of suits -- comprised of top and bottom individual pieces are on hand and immediately available in most popular sizes. The total price per suit is $125… $75 if purchased individually. Please call Gary Faria at 248-417-3207 to arrange pick up. Because these suits have been such a hit, arrangements are being made for matching jackets, vests and hats to be available for next season.