Shorts 40th Annual Vasa:
What a Weekend!
Yes, it was a bit nippy, but those who endured last year's weather conditions thought it was balmy in comparison. But the sun came out, the Event Tent was warm and cozy, and the post-race celebrations featuring beer from the title sponsor Shorts beer were plentiful. The course was groomed to perfection, but the skis were squeaky and slow due to the frigid temps, but there wasn't much to complain about! A comment heard more than once was "It was one of the best Vasa's ever!" This is why we ski!
Team Vasa Ski Club was there in force, either volunteering or racing. It takes both to make a great race, and we have the best of both in Traverse! Many volunteers come back year after year, and they get promoted to the more plum jobs as they accrue seniority. The most coveted jobs are indoors, but you have to earn the position! The set-up crew has everyone's respect, especially this year. They worked all week to put together "the stadium," and the busiest day (Friday) featured a brutal blizzard!
The participants included 330 skiers and 73 fat bikers this year, and 118 raced the Gran Travers. A handful biked AND skied. The fat bikers and skiers partied together in the cozy tent. Most will agree that the addition of the fat bike races three years ago has been a positive move, bringing the two disciplines together to celebrate what we both love, playing in the snow!
The best story of the weekend comes from VSC member, Dan Novak. At the start of his race, the 50K classic, he realized that he forgot to put his race number on. So he ran to the car to get it, and made it back to the line eight minutes after his wave started. Well, he came in 2nd place overall, 7:40 minutes after the winner Blair Zordell. Would the win have gone to Dan if he hadn't made his fatal error? We'll never know!
For complete Vasa race results, see: Vasa Results
For Gran Travers results, see: Gran Traverse Results
Boyne Grinder – This Weekend!
Let's keep the MI Cup momentum going at the Boyne Grinder on Saturday, February 20, at Boyne Mountain! The gun goes off at 10:00 with a mass start. It includes a "Cash Climb" (gift card) Award for first male/female to the top of initial climb. Registration is 8-9:30 AM race day.
After the Grinder, there are two more races before the grand finale, the Michigan Cup Relays! The Black Mountain classic and freestyle races are the weekend of February 27/28 – a great way to pick up last minute points.
Michigan Cup Relays on March 6! Everyone Come!
This is a super fun, but important race, and we need a big show of force from our members to win back the Cup! This is the race that can make or break us, and we need skiers out in force to out-perform the perennial winner, The Cross Country Ski Shop. They currently are in custody of OUR Cup! If you can complete an 8K non-hilly course, please come. We will put you on a team for participation points only and you will have a blast. Only your team gets timed. It's not only a fun race, it's a celebration of the ski season. Winning back the Cup would only be icing on the cake. Plan to come and support your club!
Banff Film Festival World Tour – TC: Save The Date
Mark your calendar for the Banff Mountain Film Festival World Tour, coming to the State Theatre in Traverse City for the 4th year! This is an awesome community event and major fundraiser for the Vasa Ski Club. Funds raised go to youth and community programming such as WeSki and the Middle School Program.
Wednesday, April 6, 6:00 is the date. VSC members can purchase tickets online one week before the general public on February 19th. Ticket prices are $15 in advance, $20 at the door. On February 26, tickets will also go on sale at Brick Wheels, Oryana Natural Foods Market, and Backcountry North.
And don't forget to thank our Platinum sponsors: Backcountry North, Quantum Sail Design Group, and Smith Haughy Rice & Roegge, Attorneys at Law.
Coaches and Parents:
VSC Middle school club ski program.
WE NEED YOU. We have 71 middle school kids from 4 schools and we need some help. Our coach's need a parent/assistant/helper for the last sessions…as some of our volunteers are off racing in out-of-town events.
Time: 3:00PM – 5:30PM Remember: No VSC club ski if TCAPS closes for weather
Dates include: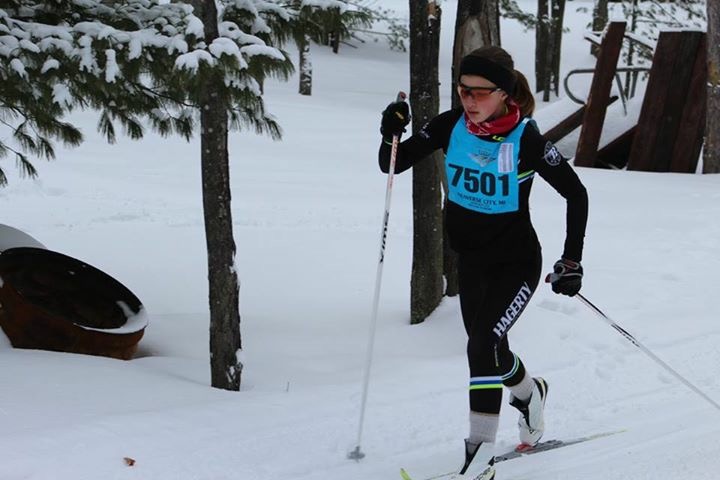 Thur. Feb 18
Tue. Feb 23
Thur. Feb 25
Tue. March 1
Thur. March 3
Thank you
Randy Smith, 933-1264
Ski Racks for sale: get your stand alone ski rack for $50 to VSC club members, holds 10 pair classic and/or skate skis. $100 to non club members. They are customizable for backcountry or other ski widths. Only 5 left at this price!
Welcome new Vasa Ski Club Board members: Gary Faria, long time skier and MI CUP participant recently retired attorney and moved to TC has joined your VSC Board of Directors.
Also, welcome Bud Huber to the VSC Board. Bud brings a long history of local volunteer involvement and cross country ski enthusiasm to the VSC. Welcome these folks as we promote cross country skiing in the Grand Traverse Region trough recreation and competition!!