Michigan Cup News
A hearty welcome to all our new Vasa Ski Club members! We are now over 200 strong. If you know any interested skiers who have not yet joined, encourage them to do so by the end of January to be included in VSC's official MI Cup Roster. Come March, there are always skiers who wish they had joined so they can ski for VSC at the MI Cup Relays. This giant ski-party often decides the winning MI Cup team. Don't let your friends miss out on the fun!
Congratulations to VSC members who participated in the 6-hour Relays at Hanson Hills on January 7. The VSC Men's team of John O'Hearn, Ben Lannin, and Sam Holmes took first place in their division and skied more laps than any other team. In the Co-ed division, Glenn Goodman, Cliff Onthank, and Kathleen Kerr tied for first with "Booty and the Beasts" from GRNST. And the intrepid Women's team of Amelia Wilks, Daryl Allison Busch, and Anna Carins finished a strong second to "The HH 'Girls'". Way to ski, team!
An able VSC contingent also traveled to Huron Meadows in Brighton last weekend for the Frosty Freestyle on Saturday and the Krazy Klassic on Sunday. The races were skied on man-made snow that the race organizers had stockpiled and then spread on the course after a mid-week thaw. The amazing Sam Holmes of VSC came out on top of both races! Nick Amato finished fourth in the freestyle and 11th in the classic race. Cliff Onthank (9th both races) and Glenn Goodman (11th, 10th) proven again that they are masters of both disciplines. Thanks, gentlemen , for making the trek to compete for VSC.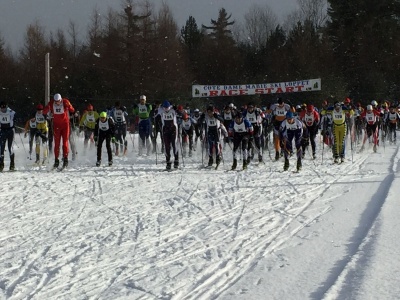 This Saturday, get your skis waxed for the Cote Dame Marie Ski Loppet at Hanson Hills in Grayling! For the MI Cup races, the men will ski 26.4K and the women 13.3K in this freestyle event featuring wave starts. There are shorter "citizen" races with both classic and skate categories. Some Grayling area establishments offer free libations and/or discounts on food with your race entry. Post-race party anyone?
Be sure to check nordicskiracer.com for complete race information, updates, and results.