Welcome To Ski Tracks
Hello Skiers, this is a big weekend coming up on our home trails. It's time for the 41st annual Vasa Ski Race. The snow is in great shape due to the hard work of TART and Vasa groomers. Many of us will be racing while many more will be volunteering. Some will be doing both. Either way we hope you get outdoors and perhaps even ring a cowbell or two.
Midwest Nordic Ski Rendezvous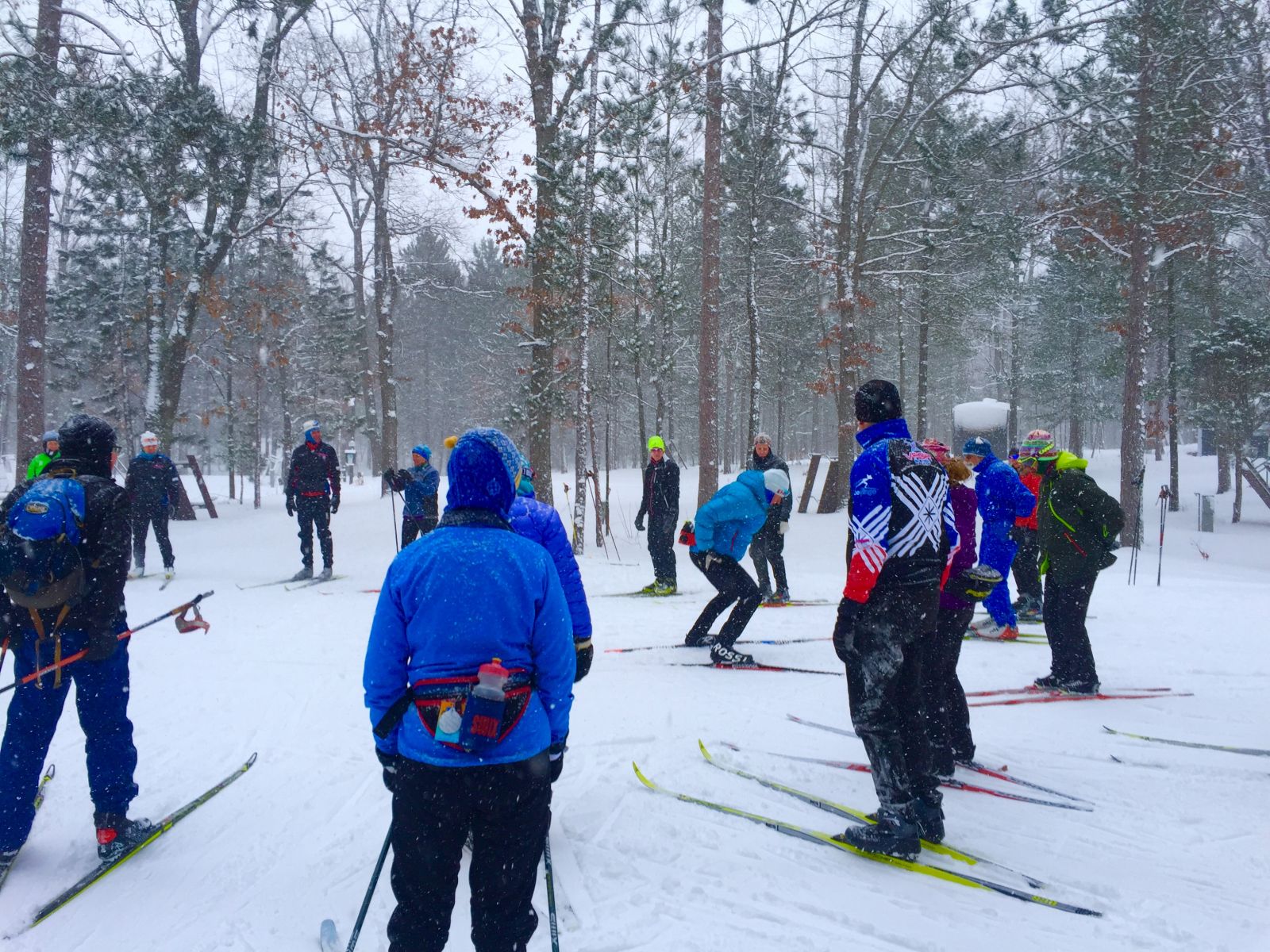 Wow, what a great early January ski weekend in Traverse City! The Midwest Nordic Ski Rendezvous had fresh snow falling daily, great grooming, and good ski temps made for a great learning environment. The Midwest NSR took place at Timber Ridge Resort, with the nationally recognized Greg Rhodes Demo Team Specialist for the Professional Ski Instructors of America.
The Vasa Ski Club hosted 9 ski clinics over two days and a very informative ski specific nutrition discussion utilizing Mr. Rhodes PhD Background in Sports Physiology. Rhodes is an Elite Wave Classic Birky skier and demonstrated his professional ski style in both freestyle and classic techniques for a wide variety of students in all 9 clinics. Over 200 skiers participated in the 9 clinics and over 130 enjoyed a light meal and beverages for the evening social.
Congratulations to Amy Powell for having the vision and energy to bring Mr. Rhodes to Traverse City for the First Midwest Nordic Ski Rendezvous. Thanks to the VSC volunteers as well as the North American Vasa and Michigan Cup committee for their financial support..
Noquemanon Ski Marathon
The Vasa Ski Club wants to recognize the 65 local skiers who trekked to Marquette to cross country ski the Noquemanon Ski Marathon. The Noque is always a fantastic time. There were 5 classic and 5 skating events ranging from 3K to 31K distances. We challenged ourselves at one of the finest ski events in North America and some of the most fun one could have on skis.
It was a beautiful snowy Saturday with light winds in the high 20's, a perfect cross country ski day. There were some notable top finishes and some of us who rounded out the other end of our age group! Everyone is taking home a memorable experience and some brought home coveted cowbells and SWAG. Congratulations to all and we hope to see you on snow soon.
VSC Wax Room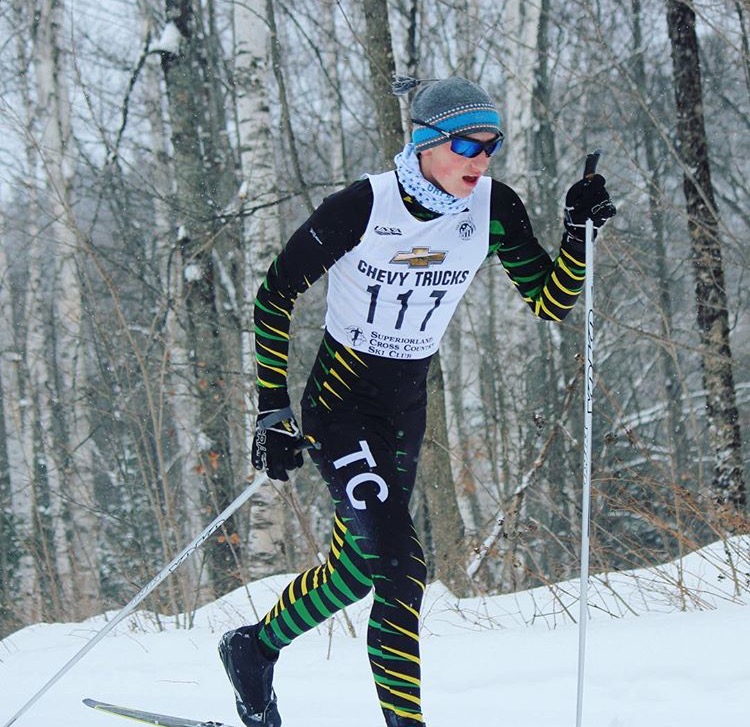 A seasonal XC ski wax room has been well received at Timber Ridge Nordic Center and RV resort, home of the North American Vasa, and VSC Jr ski programs. The wax classroom offers a venue to teach Jr. High school kids how to wax skis as part of the after school program throughout Jan & February. Generous support has been received from Timber Ridge, North American Vasa & St Frances High School Ski Team.
The room was constructed by VSC volunteers with Randy Smith leading the way. There are 4 wax stations with music and all the necessary elements of a waxing area. The wax room will be open to xc skiers when Timber Ridge is open & when the Jr. Program is not in session. Get your wax on and get outside.
If you have surplus wax to donate to the Jr program, we can give it to students who graduate from the wax education program. The VSC is a 501c3 organization. For more information or donation. Please contact Randy Smith at skitherapy1@Gmail.com or231-933-1264
Thrills, Chills and Spills at the White Pine Stampede
Vasa Ski club was well represented at the White Pine Stampede last Saturday with 33 racers in the 20K and another 28 in the 10K. The cancellation of the 50K race, due to lack of snow, moved all the marathoners into the 20K and made "Stampede" a particularly appropriate descriptor! Although the classic skiers had a 15 minute head start, most eventually had to contend with waves of skaters eager to overtake them. Temperatures in the low teens and fast conditions added to the excitement, as did numerous crashes, tumbles, and broken poles.
Both disciplines were ranked together for MI Cup points, so top 20K finishers for the women were Bridget Thuente (freestyle), Jennifer Brown and Carrie Urbain (2nd and 3rd overall in the women's classic race). Most of the VSC women took home age group awards as well, with Marnie Sutter skiing notably fast. Top placers for the Senior men were Sam Holmes, John O'Hearn (2nd and 3rd overall in the men's freestyle), Cliff Onthank, Glenn Goodman and Todd Vigland. Special congrats to James Woodburne who won his age group (75-79) in the men's freestyle race by 20 minutes! In the classic race, Randy Smith did some quality Birkie training as he skied to a third place overall, hot on the heels of some much younger guys. Regardless of place, everyone who finished earned points for VSC as we continue our quest to retain the MI Cup. Way to go, team!
VSC Juniors did their part by dominating the 10K freestyle race! For the men, Andrew Amato, Ted Roe and Elliot Smith took the podium positions. Kelly Klettner, Dana Pflughoeft and Katie Erhardt finished 2nd, 3rd, and 4th overall for the women. Athena Gillespie found her niche in the 10K classic, where she out-skied the rest of the women, and all but one of the men, to finish 2nd overall! Congratulations to all our high school skiers who came out to race! The future of Nordic skiing in northern Michigan looks bright indeed. Go to nordicskiracer.com for complete results.