We have had some great skiing lately and even with the warmer weather coming there is plenty of skiing left. This weekend features one of the biggest little ski events of the year, the Michigan High School Nordic State Championship. Youth skiers from around the state will descend (and climb) on Traverse City to compete in three events. Our own Traverse Nordic Team women are defending state champions along with individual state champion Mary Lyon. If you are not racing, getting married or doing something else of a critical nature, grab a cowbell and head to the Bartlett Road Trailhead.
High School State Championship Schedule
Friday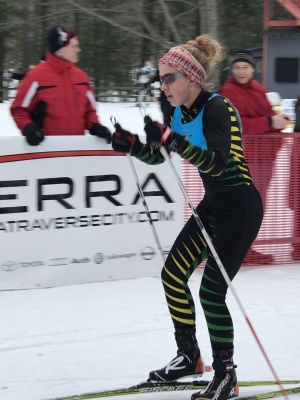 15:00 - Girls 5.4K Classic Pursuit (Interval start)
16:00 - Boys 5.4K Classic Pursuit (Interval start)
Saturday
09:00 - Girls 5.4K Skate (Gunderson start)
10:00 - Boys 5.4K Skate (Gunderson start)
11:00 – U14 3K Race (Mass start)
14:00 - Sprint event
North American Vasa
What a great weekend of ski racing in northern Michigan! The racers send a heart-felt thank you to all the wonderful volunteers who made these races possible. Many VSC members were among them, including some who just showed up to help on race day. (Thanks for directing racers at the trail split on Saturday, Jeremy Treadwell.)
No big report this week on who won what because YOU WERE ALL THERE! Whether this was your first ever Vasa race, or your 41st (Tom Sutter?), congratulations on your accomplishment, and we're glad you are racing with VSC. Complete searchable results for the Vasa races are now available at vasa.org
These Senior racers challenged themselves by racing both days (freestyle and classic): Karen Kirt, Gussie Peterson, Melinda Mitchell, Caroline Urbain, Sam Holmes, John O'Hearn, Anders Gillis, Brian Beauchamp, Tom Sutter, Todd Vigland, Bryce Dreezen, Glenn Goodman, and Mike Schaeffer. The distance award goes to Glenn, who placed 11th in the 48K freestyle on Saturday and 5th in the 34K Classic on Sunday!
VSC Junior racers filled the standings of the 6K Freestyle and Classic races, with 13 men and 18 women competing. Eight guys and eight gals took on both races. It was fun to watch the lead 6K classic skiers zip through wave 3 of the 16K like we were standing still.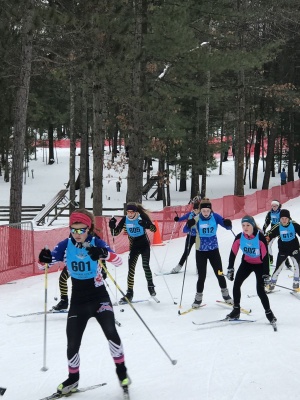 Many have seen Roger and Ryan Hagerman's professional photos on Facebook and have asked how to purchase them. Here's the deal: simply e-mail Roger at hagerman.roger@gmail.com or call him (his preference) at 231-499-9879. For $20, he will send you all your photos on a CD. Just give him your name and bib number.
Just in case you haven't heard, race season does not end with the Vasa! Anyone not helping with the High School State Championships on Saturday February 18 is invited to race with the club at the Forbush Freestyle in Frederic. The MI Cup points race features a hilly 17K course, while the Fun Series race is an easier 8K. Trails are reported to be in excellent condition. Sunday February 19 is another MI Cup race, the 14K Hanson Hills Classic in Grayling. Complete information about both races can be found at nordicskiracer.com Remember, the VSC facebook page is a good way to connect with club members to share rides. Ski on!