It's Michigan Cup Relay Time!
Vasa Skiers Needed!
Well, we were looking pretty good in the points LAST week. Then Black Mountain weekend happened. Team Vasa was, let's just say, "sparsely represented." Shout out to Todd Vigland, Glenn Goodman, Gussie Peterson, Kevin Tarras, and Dave Whitlock for representing at the classic and/or freestyle races this weekend. We need points, and we're down to the wire. The relays this Sunday are our last chance to show our stuff. From that point on, it will be in the history books.
The relays are a fun way to celebrate the passing of the ski season. There are no individual times given, just team times. The only pressure is seeing who is having the most fun! A fabulous lunch follows the relay race, then there's the MI Cup awards program with lots of champagne, photo ops, and hoopla!
If you plan to join the fun and do your part to help us retain "the Cup," here's the plan: As soon as possible (but before 5:00 PM Saturday), send your name and age to Melinda Mitchell, and indicate if you want to ski classic, skate or no preference. The sooner skiers commit, the better use we can make of all our talent! Melinda's email: melindajam@aol.com

Melinda will notify you of who is on your team and how to contact them by Saturday night. It's recommended that you set up a meeting time at XC Ski Headquarters so no one has to hang out all morning waiting for their teammates to show up (you are required to register together as a team). If you sign up after this time, we still want you! Melinda will organize teams as names come in.
Melinda will strategically assemble teams for optimum points. She's a math wizard and knows the system through careful study and analysis. So anyone who gives her a hard time about her team placements will be given the job next year! Please accept the fact that she can't put everyone on a winning team. There are no individual points given in this event, so it's all for the team! Rah rah! Every team gets points, so the more teams = more points.
If for any reason, you cannot do the relays after signing up, please notify your teammates and Melinda ASAP.
By the way, we especially NEED WOMEN! It doesn't matter how fast you are. If you can make it around an 8K course, we want you. Given the weather, there are likely to be some further communications from race organizers, so stay tuned. Refer to nordicskiracer.com and VSC communications.
Michigan Cup Relays at Cross Country Ski Headquarters
Date: SUNDAY, MARCH 12, 2017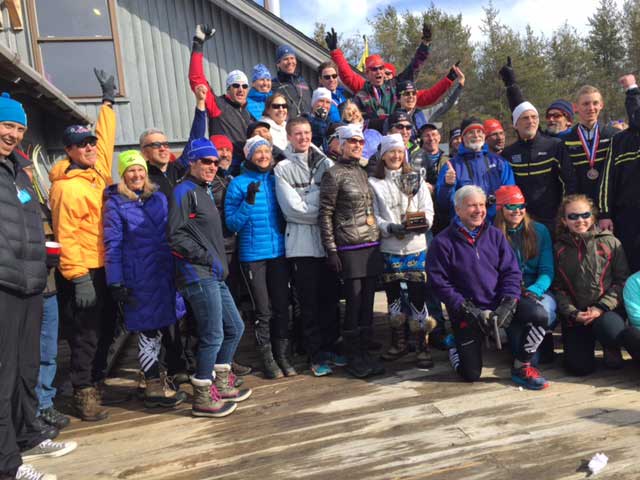 Time: 11:00 AM
Where: Cross Country Ski Headquarters, Roscommon, MI
Join us for one of the most exciting and entertaining ski races in Michigan! This capstone race for the Michigan Cup Race Series features a relay race with 3 skiers per team: 2 legs freestyle, one leg classic; approximately 8km per leg for freestyle and classic. You do not have to be a Michigan Cup racer to participate! If you do not have a team but would still like to ski, we will try to find a team for you. Registration starts at 9:30am, and the race starts at 11:00am. The entry Fee is $20 per racer. All entrees score Team Points.
After the Relays, stick around for the awards ceremony on the sun deck, featuring $1 beers from Paddle Hard Brewing! Feast on house-pulled BBQ pork sandwiches, black bean veggie burgers, vanishing scalloped potatoes, and of course our famous home-baked cookies. This post-race meal is included in the race registration fee. Each racer will also receive an official 2017 Michigan Cup Relays Pint Glass!