Well folks the inevitable has happened, Spring has arrived. Mother Nature may have one or two more surprises for us but skiing in the lower peninsula appears to be done. My advice is take what she gives you and get outside. It doesn't matter if you are running, cycling, paddling or just getting your hands dirty with some good work. We had a great ski season with plenty of ups and downs. If this season showed us one thing, it showed us that you need to hit the trail while you can. Enjoy Spring or whatever it is. VSC
Team Vasa Wins the Cup!
Team Vasa showed up at the relays, the last hurrah for the Michigan Cup race series, cautiously optimistic that the Cup was ours for the taking. We were up 5000 points at that point, but our #1 rival, Cross Country Ski Headquarters, typically shows up at the relays well-armed with teams galore, and ready for battle. With many of our star skiers in Switzerland for the World Masters, many sick, several kids at Junior Nationals, and some members at the Bear Chase, we were hurting for participation.
Thanks to all who showed up to fight the good fight: John Morris, Gary Faria, Jim Padden, Melinda Mitchell, Laurie Padden, Gussie Peterson, Fran Alfs, John Todd, Glenn Goodman, Anders Gillis, John O'Hearn, Arielle Jean, Abby Jean, Erica O'Hearn, John Roe, Nancy Morris, Eric Jean, Todd LaBonte, Jack Myers, Paul Crowley, Richard Jaissle, Curt Peterson, Jeremy Treadwell, Amy Wilks, Dave Whitlock, Ted Roe, Jamie Somerville, and Kevin Tarras.
The course was, well…. A bit dicey. After a week of unseasonably warm weather and rain, followed by arctic temperatures, it was an ice rink. Lots of snow was trucked in, and it helped. All survived the notorious "S-turn" but it was in pure survival mode!
How did we do?
Winning the entire shooting match was the young guys' team of Glenn Goodman, John O'Hearn and Anders Gillis. Amazing! Our young ladies team also captured a 1st: Arielle Jean, Abby Jean and Erica O'Hearn. Congratulations! Second in the young guys' division was the team of Kevin Tarras, Jamie Somerville, and Ted Roe. Good job, guys! Team "Frozen Figures" was 2nd in the mature ladies category. Congrats to Melinda Mitchell, Gussie Peterson and Laurie Padden! Fran Alfs, John Todd, and Todd LaBonte pulled off a bronze in the mature coed category. Excellent job for a team with last minute changes!
In the end, we earned enough points to win both the Relays AND the Michigan Cup!!! And the juniors won the Baic Cup, keeping this tradition alive. The Brumbaugh Cup, however, was lost to Hanson Hills/CC Ski Shop in a tight battle to the end. Special congratulations goes to Sam Holmes, winner of the entire Michigan Cup men's division. Vasa juniors Dana Pflughoeft and Eliot Smith also won their divisions. Awesome!
The team spirit award goes to a couple of ladies who showed up at the relays to do their part despite challenges. Laurie Padden worked Saturday night, got up early to get to the relays, then left right after to go back to work! Fran Alfs arrived feeling under the weather, and also left early to go back home to bed! No doubt, there were more of these stories that we don't know about.
A big collective THANK YOU goes to our math and science whiz, Melinda Mitchell, for strategically organizing the teams and getting everyone squared away. And to her onsite assistants, Pat Mallon and Kim Todd, for making sense out of all the race day chaos.
And finally, CONGATULATIONS to all who came to the races and contributed points during the entire season for Team Vasa! Viva Team Vasa! More celebrating and drinking from the Cup will occur at the VSC Annual meeting coming early this Spring (date TDA). See you then!
Muffin Race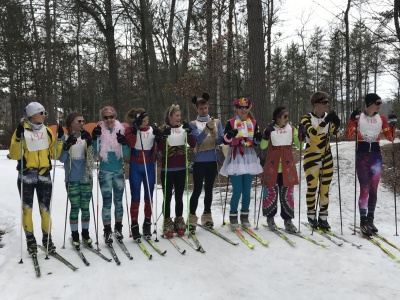 Despite the lack of snow virtually everywhere else in Michigan, Cross Country Ski Headquarters managed to put together fantastic conditions for the 25th annual Muffin Race. The VSC youth racers racers were in costume, with The Amazing Spider Man, cats, dogs, a variety of fairies, and dogs; it was like Halloween in March. Huge thanks to Cross Country Ski Headquarters for the many hours they put into the race course, they were able to pull off an incredible race. They provided an excellent race course, delicious food, and a fun atmosphere to wrap up the season.
BANFF IS Almost Here!