Nordic Rocks – Matching Grant Opportunity for VSC Members!
The Vasa Ski Club is asking members and all cross country skiers to open up their wallets and contribute to our latest youth ski development effort known as Nordic Rocks. Nordic Rocks is a national program that we have brought to the Grand Traverse area. Our goal for the 2017-18 winter season is to supply one full set of skis, at a cost of $1,900 per school, to each of 12 TCAPS elementary schools.
The skis will be available for physical education classes, recess, after school latch-key programs, and other such things. We hope to enable 4,200 TCAPS kids to experience the joys of skiing throughout the winter. A pilot program in two schools this winter was a huge success.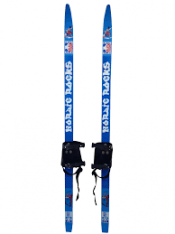 While VSC Board member Gary Faria is diligently working on getting grant money from various community treasure chests to fund the purchase of skis for the program, long time member and ace skier Sara Cockrell has stepped up to the plate and offered her own matching grant program. She will match individual donations up to $5,000. So that means that any donation you make will be doubled!
If you wish to donate to this fun cause (any amount would be appreciated!), send your check by June 10th to VSC Treasurer Bud Huber, 3954 Arlington St., Williamsburg, MI 49690. Write "Nordic Rocks" in the memo line. Donations are tax deductible since we are a 501(c)(3) organization.
The kids thank you for your help!
VSC End of Season Party
Come see the Michigan Cup trophies, visit with the ski community, and enjoy a free meal as we chalk up another great ski season. Hey all you Ski bums, come help us celebrate the great skiing we had in 2017, the Michigan Cup Victory streak and share some Nordic ski tall tales Sunday April 30 at 4PM at Mt. Holiday.
Bring the whole family and invite your friends of the Vasa Ski Club to hear about the fun we had this season. We will laugh and tell stories of xc ski racing, coaching and how we Rock, Nordic Rock that is. We are celebrating our largest Junior Ski Program, the Midwest Ski Rendezvous (nations Largest) and other tall tales of We Ski, our ski SWAP, a fund raiser or two. So, join us for dinner. We challenge you to bring a guest and your favorite dessert we have everything else covered. This is a Club Party thank you for making the Vasa Ski Club the Best ski club in the Midwest! We look forward to seeing you…
Mt. Holiday
Sunday April 30
Doors open at 4PM dinner about 5:PM
Bring a Dessert if you wish. Mt. Holiday will be serving up a taco bar with all the trimmings.
Bayshore Marathon Fundraiser
One certain sign of Spring is seeing folks out training for the Bayshore. This iconic community event is also one of the biggest fundraisers for the club. Althought the event raises money to help fund our many program, working it is a ton of fun. Come out and join us for an nuforgettable day of supporting the club and our althletic community. We need about 30 volunteers to work the station. Please contact Eric Jean to volunteer.
Timber Ridge Clean Up
Join the club as we lend a helping hand or two to our friends at Timber Ridge May 12-13 for some Spring cleaning. It has been a long Winter with many miles of skiing and the park is ready for a little TLC. Gordon and the crew are planning some fun in addition to the work to spruce up the park. A pot luck and some merrymaking will also be on tap. More details can be found at Timber Ridge Resort.