Hello VASA
We hope your summer has been a great one. It has been an incredibly beautiful summer here in Northern Michigan but the geese are a flying and the colers are starting to show. You know they say "Winter is coming" and that is a very good thing for many of us.We have been busy as a club preparing again for our many programs. We have great things to come so we hope you will join us!
Nordic Rocks Expansion
Thanks to generous contributions from several Vasa Ski Club members, the Optimist Youth Foundation, Rotary Good Works, and Sara Cockrel's very generous $5,000 matching contribution, the Vasa Ski Club was able to raise $12,450 toward the purchase of enough skis to expand our Nordic Rocks program into nine local elementary schools for the 2017-2018 ski season.
We are working with the Traverse City Schools to finalize which six TCAPS schools will receive the skis for the upcoming season. Other schools receiving skis are Lakeview Elementary in Elk Rapids, Lake Ann Elementary, and Woodlands School. Each school will have enough skis to fully supply its largest physical education class, so that each student in each class will have his or her own pair.
Nordic Rocks programs were introduced four years ago in Wisconsin, and have increased in number significantly in the northern U.S. in the last few years, based on their huge success. Our VSC program remains the first and only Nordic Rocks program in Michigan's Lower Peninsula.
From a broader community perspective, recent research confirms that key to fostering healthy and active lifestyles in our youth is introducing them to an active outdoor lifestyle as early as possible, preferably prior to age 11. Middle school students are more likely to engage in school sports if they are introduced to them in elementary school. Middle school students are less likely to adopt unhealthy or destructive habits if they are introduced to healthy activities at a younger age. Introducing children to Nordic skiing in elementary school, in a fun environment with their classmates, will increase youth and family participation in our sport, and will contribute to a healthier and more active Grand Traverse Region.
Thanks again to all of our members who have helped make this year's expansion possible. But our role goes beyond just supplying the skis. We are also committed to helping the physical education teachers with what they need to oversee on-ski activities. This will include volunteer VSC members occasionally being on-site to help as needed. If you would like to be part of a team helping elementary students enjoy learning what it is like to be on skis, please send an email message to Randy Smith at skitherapy1@gmail.com. Your continued support is greatly appreciated.
Coaching Clinics
As you know the primary goal of the VSC is to expand Nordic Skiing in Northern Michigan. One foundational element to achieve this goal is to get more skiers focused on coaching. All skiers from the very best to the newest recreational athlete can benefit from coaching. We have many incredible skiers in the area but only a small percent engage in coaching regularly.
The VSC has formed a new partnership with CXC the Central Cross Country Ski Association. CXC is also committed to training coaches to teach folks how to ski. We have two great opportunities coming up this fall to get some training from some of the best coaches in the country. Please join us a we expand our coaching pool and put people on skis.
Save the Date: Sunday October 8. The VSC will team up with Yuriy Gusev and Eliska Albrigtsen from CXC to provide a coaching clinic here in Traverse City, details to follow. Don't miss this opportunity to welcome the coaches and share the energy of this experience as we learn from these renowned coaches.
October 20-22 2017 CXC/Wayne Fish Coaches Certification and Conference will once again be offered in Hayward WI. CXC has announced Ivan Babikov as the key presenter. Ivan was a World Cup Racing veteran with many top 10 performances for his adopted homeland of Canada. Since retiring from World Cup Racing he has taken over as the Canadian National Ski Team's Head Coach and his charges have continued their momentum on the world stage with many top results last year, including Alex Harvey's Gold Medal in the 50K at the Lahti World Championships. Join us to hear Ivan's perspectives on training and technique.
Summer Camp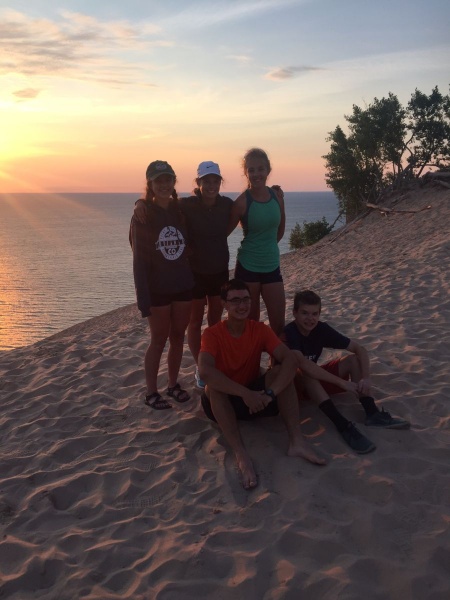 Many thanks to Coach K and Milan Baic for putting together the summer Nordic Ski Camp at Sleeping Bear Dunes for our high school athletes. The kids had a great time and received some incredible focused attention. Coach K said " You can't believe the progression these kids have made in just a couple days". This camp is offered annually and I can tell you it is an incredible value. If you have kids anywhere near the high school age think of this of next August. Thanks to Coach K and Milan for giving so much to our kids.