The Ski Swap Is Here!
Gear up for the cross country ski season at the annual Vasa Ski Club "Nordic Ski Swap" Saturday October 14th from 10:00 AM until 2:00 PM at Brick Wheels in Traverse City. This is a great chance to buy both used and new ski equipment--or sell some of your gear to others who are getting into the sport. The best deals available on used Nordic gear PERIOD will be found here.
Drop off your used Nordic skis, boots, or other gear today Friday, October 13th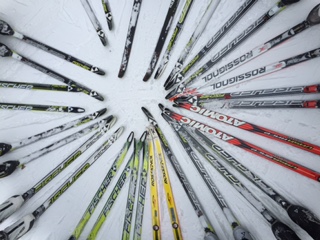 from 4-7 PM. You can get the best deal of the year on Timber Ridge season passes, TART Grooming Badges and North American Vasa registrations.
Proceeds from the swap help fund Vasa Ski Club programs to promote Nordic skiing in the Grand Traverse Region. Vasa Ski Club programs include the TCAPS Middle School Program, Nordic Rocks, We Ski and She Skis. Each of these programs is geared to get people of all ages in the region out of doors and on skis. For more information email us at curtpete@gmail.com, check us out on Facebook or at vasaskiclub.org. See you on the snow!