The Ski Club has been busy planning some great events for our members. Don't worry, if you have not yet renewed your membership you still can at our website. Just click here. This is just an introduction to these two super sweet events. If you want all the details you need to visit the VSC website.
Midwest Nordic Rendezvous
When:January 6 & 7, 2018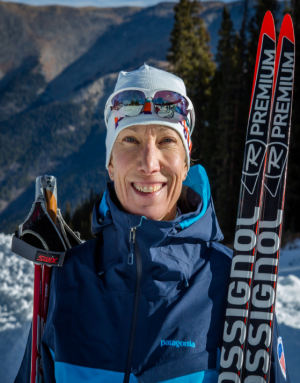 Where: Timber Ridge Resort
Guest Instructor: Emily Lovett
Join us for the second annual Midwest Nordic Rendezvous with our guest instructor Emily Lovett from Steamboat Springs, Colorado! Her roots come from Michigan where some of her best childhood memories are on cross country ski outings with her family. She attended Kalamazoo College & eventually moved to Steamboat in 1995. She soon found her passion & joined the PSIA Rocky Mountain Division & USSA in 1996. Emily coached the Steamboat Springs high school cross-country ski team for 8 years. She currently hosts and coaches instructor groups, master's groups, women's fitness groups, and co-organizes and instructs at the West Yellowstone Ski Festival Camp and the Steamboat Springs Nordic Camp. She recently became the Nordic Specialist for the PSIA National Team. Join us for our weekend clinics and social get-together! Here is a link to an article written by our guest coach extraordinaire.
If you weren't at the Rendezvous last year you missed a great time. There is lots of skiing and lots of instruction. Join Nordic Ski fanatics new and seasoned for a great ski weekend. As always, more details can be found at our website www.vasaskiclub.org/
Stokley Creek Trip
VSC Members get your reservations in for Jan 12 – 14 at Stokley Creek. The Vasa Ski Club has arranged for its members an all-inclusive Nordic ski trip to Stokely for Friday, January 12 through Sunday, January 14, 2018. The prices quoted below for the currently available Lodging Choices include:
Trail pass for skiing Friday, Saturday and Sunday
Lodging Friday and Saturday nights
Lunch available for an extra charge dinner Friday
Breakfast, lunch and dinner Saturday
Breakfast Sunday (lunch available for an extra charge of approximately $15)
We will all be responsible for our own transportation. Alcohol can be purchased on site.The prices quoted below are in Canadian dollars (the current exchange rate is favorable – around $1.30 Canadian to $1.00 U.S.). You must reserve your participation by contacting Stokely Creek Lodge at 705-649-3421, and telling them you are with the Vasa Ski Club, and paying Stokely Creek directly. If there are 10 guests our club members will receive 5% off each when paid individually. Call Stokely today to get your reservation as spots are filling up fast!
Lodging Choices
Lodge- shared bathroom- $170 CND per person per night -- $340 CND per person for two nights.
Ottawa- private bath- $200 CND per person per night -- $400 CND per person for two nights.
Chippewa- private bath- up outside stairs $200 CND per person per night -- $400 CND per person for two nights.
Hillside- private bath –up outside stairs $200 CND per person per night -- $400 CND per person for two nights.
Day skiers – shared bathroom $160 CND per person per night -- $320 CND per person for two nights.