Hello Vasa
Yes indeed Winter weather has arrived. Just because the holidays are here and the children are off of school doesn't mean that we are slowing down. We are off to a great start this season with much more to come. Here is whats happening.
Lakes of the North
The Lakes of the North race saw a nice increase in participation with about 100 skiers in attendance. The course was in great shape and the food was served up hot. Thanks to all that came out to this great club event. A full race update can be seen at Nordic Ski Racer.
Junior Racing
Six VSC junior athletes and their coaches headed north tho compete in the Houghton CXC Junior Cup event. Congrats to Mary Lyon who advanced to the Sprint finals for the U20/U18 age group . Many thanks to coach Ross Williams and our new head coach Ruth Oppliger.
NORDIC ROCKS VOLUNTEERS
Vasa Ski Club volunteers are needed to help TCAPS elementary school PE teachers as they start teaching Nordic skiing to their K – 5 students in January. The Vasa Ski Club has prepared an 8-step Nordic Rocks curriculum with basic lesson plans and on-ski games and activities, and is helping the teachers as they implement that curriculum for the first time.
Several Vasa Ski Club members have already come forward, but a few more are needed to make the program start as successful as possible. The goal of Nordic Rocks is simply to introduce students as early as possible to Nordic skiing in a fun and supportive environment, so they learn to enjoy the sport. They will be provided simple instruction on basic technique, with most on-ski time spent in group games and activities.
No coaching experience or training is needed. You need only to be interested in being around very young children on skis, one of the most adorable things on the planet, as can be seen from the pictures below from a recent session of the after-school LEAP Nordic Rocks program at Eastern/Bertha Vos.
The six TCAPS schools participating in Nordic Rocks this season are Blair, Long Lake,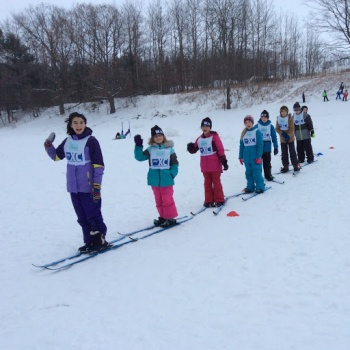 Westwoods, Traverse Hts., Cherry Knoll, and Eastern/Bertha Vos. The time commitment is whatever you are comfortable with. We are working with the teachers to get schedules for when during the school day they will be using the skis, so you can choose when and where you are able to help.
If you would like to help us make Nordic Rocks as successful as possible here in Traverse City, please contact Gary Faria at gfaria10@msn.com, or 248-417-3207, and we will be in touch about scheduling that works for you.
Midwest Nordic Rendezvous
When:January 6 & 7, 2018 . Where: Timber Ridge Resort. Guest Instructor: Emily Lovett
Join us for the second annual Midwest Nordic Rendezvous with our guest instructor Emily Lovett from Steamboat Springs, Join us for our weekend clinics and social get-together! Here is a link to an article written by our guest coach extraordinaire.
If you weren't at the Rendezvous last year you missed a great time. There is lots of skiing and lots of instruction. Join Nordic Ski fanatics new and seasoned for a great ski weekend. As always, more details can be found at our website www.vasaskiclub.org/
VSC Store
The Vasa Ski Club Store is open. Get online now and start shopping. All prices are reduced to reflect volume purchasing so get your goods now. A link to the store can be found here.We will be selling VSC hats and headbands at the Lakes of the North race as well.
Upcoming Events
1/6 Midwest Nordic Rendezvous at Timber Ridge
1/10-1/11 PSIA Clinic
1/14 We Ski
1/21 We Ski
1/28 We Ski
2/10 North American Vasa